Publisert 3. Mars 2023, 14:09
Sist oppdatert 9. Juni 2023, 13:28
Conference programme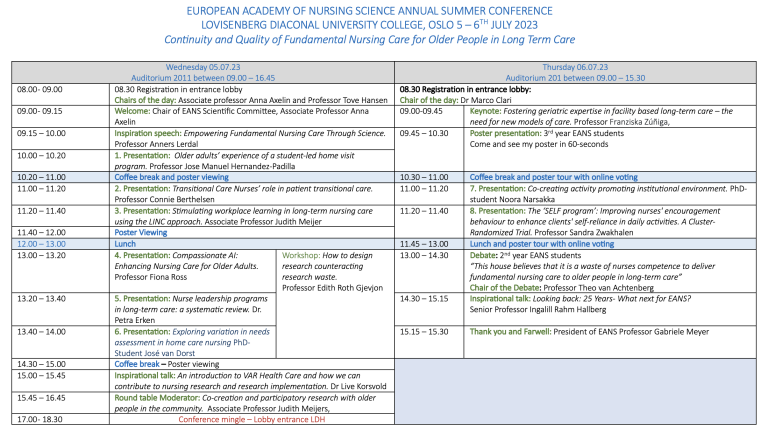 View and download the conference programme here.
Call for abstracts
This year the EANS summer conference will take place at Lovisenberg Diaconal University College in Oslo between the 5th – 6th July. The conference theme will focus on Continuity and Quality of Fundamental Nursing Care for Older People in Long Term Care. Therefore, the scientific committee is now looking forward to receiving abstract for oral or poster presentations on research particularly focusing on the conference theme.
This topic is deemed particularly important, as today more older people than before receive long-term care in the community, while regularly being portrayed as having comprehensive health care needs. The latter refers mainly to the physical, social, and psychosocial care needs of older people, often described in nursing research as representing basic, essential, or fundamental nursing care. However, research implies that in some cases older people's care needs are particularly poorly met in this context. Thus, reflecting fragmented nursing care lacking continuity. Studies also indicate that long-term care services experience limitations related to time spent with patients, the number of health care staff with adequate competence, lack of collaboration with other professions, high rates of sick leave, part-time workers, and issues with nurse retention. Therefore, research into nursing supporting us with more in-depth knowledge within this area is warranted.
Abstract submission
Online submission for abstracts opens 6th of March. Submissions can be done below, or at https://european-academy-of-nursing-science.com/event/eans-summer-conference-2023/. The online submission deadline is the 30th of April 2023. We welcome high quality abstracts related to the conference theme described above. The conference is free of charge, regardless of if you are a member of EANS or not, however this means that there only is a limited number of spaces for non-members so the rule first come will apply – therefore don't hesitate to register as soon as possible.
The structured abstract should include a title of no more than 60 characters, including space. Abstracts (2500 characters including space) should include: background; aims; methods; results; conclusion and relevance for research into nursing in Europe or globally. References are optional, but if used limited to no more than three references. Presenters could choose if they prefer to present their abstract as an oral or a poster presentation. Please note abstracts exceeding 2500 characters including spacing will not be evaluated.
The submitting author will receive an acknowledgement in the system (Nettskjema) to confirm that the submission is finalised and received. For safety reason please take a screenshot or save down the page to your laptop before closing the internet page. The scientific board will e-mail whether the abstract is accepted or not, no later than 1st June 2023. Questions related to abstracts or poster submission should be addressed to Marco Clari marco.clari@unito.it or to Anna Axelin anmaax@utu.fi.
We are very pleased to announce that the abstract submission deadline for EANS Summer Conference 2023 has been extended to 12 May 2023 (23:59 CET). We will confirm to presenters the selected abstracts by 19 May 2023.
Link for abstract submission
https://nettskjema.no/a/316288
2nd year student's debate
You do not want to miss one of the many highlights of the EANS summer school which is the 2nd year student's debate. The latter will take place during the summer conference at the Thursday (6th of July) in the afternoon. This year the 2nd year students will discuss the following topic:
"This house believes that it is a waste of nurse's competence to deliver fundamental nursing care to older people in long-term care"
International evidence reflects that the delivery of fundamental nursing care appears to be highly inconsistent and at times absent altogether. Research focusing on nursing care implies that it is not uncommon that fundamental care activities such as ambulation/mobilisation, turning patients, oral care and hygiene including bathing are regularly missed or down prioritised in the long-term care context. We believe no shadow should fall over the nurses (minimum 180 ETC - Bachelor level, EU regulated) regarding this rationing of fundamental nursing care. Surely their competence needs to be used to address more advanced care.
We are really looking forward to this event and recommend you all to not miss it.