Publisert 7. Juni 2022, 16:20
Sist oppdatert 18. Oktober 2022, 14:21
About Continuity for Quality of Care and Health
Research within the platform aims to produce sustainable knowledge of relevance for patients and their relatives, healthcare- professionals and organisations, regardless of context, as well as for higher education.
Patient-(Professional)-Public involvement (PPI) will be one of the cornerstones in the development of research projects within the platform. Additional, projects within the platform will depart from a set of strategical frameworks of importance for the development of sustainable research (Box 1). These frameworks will support the development of research designs that; ensures relevant research; ensures and adds value in research; and ensures quality in research. Using a set of strategic frameworks will assure that effectiveness and usability aspects are a strong part of the projects design. Each project will be designed with a strong external, but unique relation, to the programmatic research platforms overarching and unifying concept i.e., continuity and quality of care. Amalgamating projects around core concepts (continuity and quality of care will support the development of a knowledge loop[1] regarding the concept per se, whilst it also will contribute to a sustainable knowledge development with health service research, with the specific focus on nursing and nursing science, and the individual topics in foci.
---
[1] Knowledge Loop = learn, create, share, and learn again

The present knowledgebase regarding the concept of continuity within health service and nursing research reflects fragmented evidence whilst also highlighting an interchangeable use of different concepts such as transitional care, integrated care, coordinated care and continuity of care. At present Freeman and colleagues (2000; 2002) are those offering the most comprehensive definition of continuity of care (Box 2). Their definition is yet to be explored and tested but it will initially offer a solid departure base for the programmatic research platforms unifying concept of continuity (or discontinuity). Considering the present evidence concerning the operationalisation and definition of continuity, each unique platform project is therefore expected to, within its project design, to succinctly articulate its specific and wider contribution to the concept of continuity (and quality of care) within health service research, nursing, and nursing research.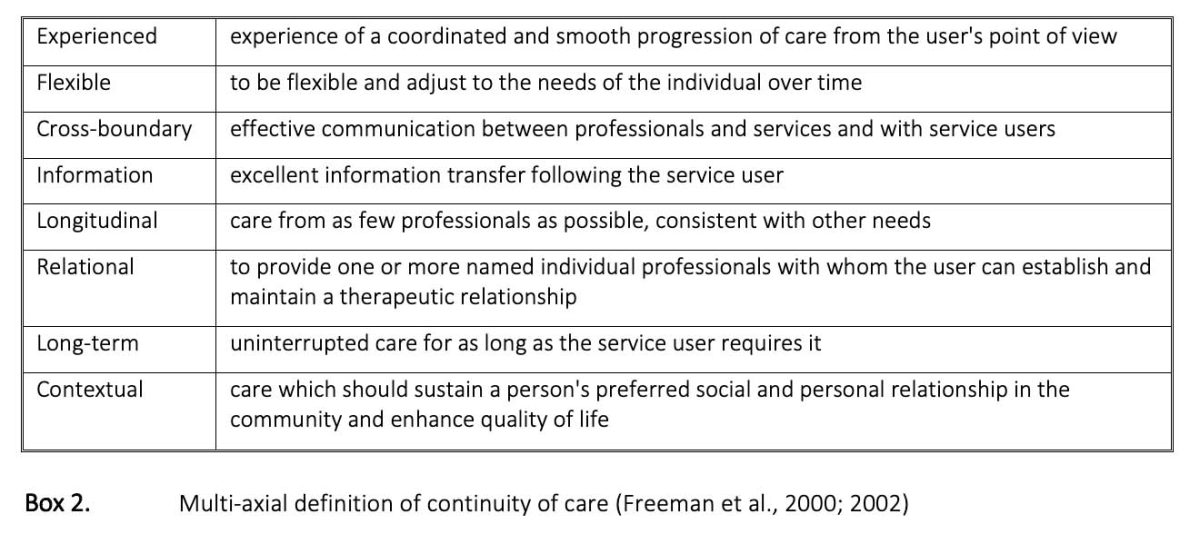 Members
The platform is, at present, led by Professor Gunilla Borglin in close collaboration with each project's principal investigator (Professors Siren Eriksen and Edith Roth Gjevjon and associate professor Cecilia Olsson with support by the Nordic Research Group. The platform engages about ten Norwegian, Danish, and Swedish researchers (the Nordic research group) and four PhD-student (3 Norwegian and 1 Swedish).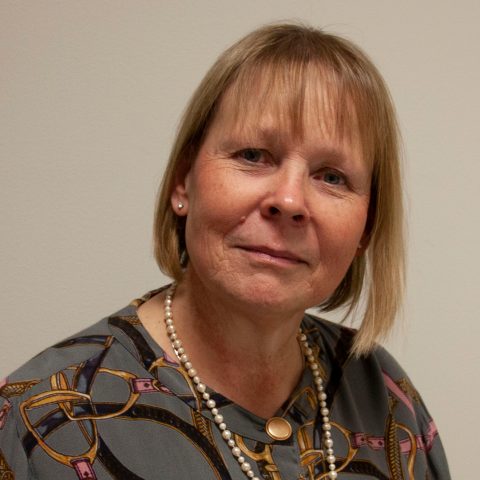 Gunilla Borglin
Professor
Projects
Project: FundaMentals of Care Models in relation to Continuity of Care: FUME-CoC.
PhD-student: Ole Martin Nordaunet (Lovisenberg Diaconal University College)
Supervisors: Gunilla Borglin, Edith Roth Gjevjon, Hanne Aagaard and Cecilia Olsson
Older people are nowadays more likely to receive long-term care where they live. With increasing age, older peoples fundamental care needs are described as increasing in complexity and extent. Among this patient group registered nurses are responsible for older people's fundamental care needs, ideally in a consistent manner over time. However, there is a scarcity of research focusing on how such fundamental nursing care needs are delivered in relation to continuity of care, a key indicator of high-quality care. This project aims to explore the relationship between fundamental care and continuity of care. More in-depth knowledge about this will are warranted particularly as research suggest that provision of fundamental care needs among older people often are signified by being, fragmented, omitted, rationed, and rushed. Few models of care are developed focusing on both fundamental care and continuity of nursing care.
The thesis consists of four studies following the development and evaluation phases in the Medical Research Councils framework for complex interventions. In short, the studies planned is: 1) a scoping review of research literature, 2) a qualitative research inquiry consisting of observations, interviews, and document analysis, 3) a focus group evaluating and assessing the acceptability of intervention and 4) a quasi-experiment evaluating the intervention. The project has a public, patient, professional involvement (PPPI) group, uses open-access publications, and standardised reporting guidelines in all studies.
Project: FundaMentals of Care Models in relation to Point-of-Care Nursing: FUME-PoC.
PhD-student: Karin Sandberg (Karlstad University)
Supervisors: Cecilia Olsson, Anne Josse Eklund, Edith Roth Gjevjon and Gunilla Borglin
The global shift in health care services towards community care during the past few decades has led to a long-term care context that nowadays has become the main place of care for older care recipients. Focusing on curing diseases might not always be the most optimal strategy in the care of older people, and in a long-term care context, it is likely to be more beneficial if the care focuses on how to support older people's functional ability and meet their basic care needs. Despite this, international evidence reflects that the delivery of basic nursing care appears to be highly inconsistent and, at times, absent altogether, resulting in unsafe and automated patient experiences originating from neglect.
The overall aim of the research project is to develop and test a nursing intervention (as a systematic model care, care pathway or clinical practice guidelines) aiming at structuring and systematise nurses care activities targeting older peoples basic care needs. The project departs from the MRC Framework and will include IV studies: a scoping review (study I), an observation study (study II), an interview study (study III) and a feasibility study (study IV). The project has the possibility to improve quality of basic nursing care perceived by older people or their significant others in long-term care contexts.
Project: Early Detection of Frailty among older people: SAFE
PhD-student: Ida Røed Flyum (Lovisenberg Diaconal University College)
Supervisors: Edith Roth Gjevjon, Gunilla Borglin, Anna Josse Eklund
Older people receiving healthcare in long-term care contexts are especially vulnerable to developing frailty and functional decline. Considering the negative effects associated with these conditions and the possibility of preventing them from progressing, it is vital that nurses possess a broad knowledge base related to them and are supported by an effective model of care. Hence the objective of this project is to generate knowledge related to frailty and functional decline per se, the related nursing practice and the context of such practice, from the perspective of different stakeholders. Additionally, to develop a model of care to support nursing staffs' decision-making processes in relation to the detection and prevention of these conditions among older people in long-term care contexts.
This research project follows the Medical Research Council's (MRC) updated framework for complex interventions andpursues to minimise waste of research. Consequently, the research design will be iteratively developed. A tentative mixed methods design has been developed, i.e., i) a literature study, ii) a qualitative exploratory study using observations, document analysis and interviews, iii) a qualitative descriptive study using focus groups, and iv) a quasi-experimental study. This project may contribute to decrease possible negative health outcomes related to frailty and functional decline, as well as to subsequently improve how continuity- and quality of long-term care is perceived among different stakeholders.
Project Publications:
Flyum I.R., Gjevjon E.R., Josse-Eklund A., Lærum-Onsager E & Borglin G. (2022) Nursing, frailty, functional decline and models of care in relation to older people receiving long-term care: a scoping review protocol.
BMJ Open, 12:e061303. doi:10.1136/bmjopen-2022-061303
Project: Palliative Care to older people with dementia: POP
PhD-student: Caroline Overen Kreppen (Lovisenberg Diaconal University College)
Supervisors: Siren Eriksen, Adelheid Hillerstad, Maria Larsson and Ingela Karlsson
Symptom management is one of the main aspects of palliative care. People with dementia living in nursing homes often have high levels of pain. Untreated pain cause suffering and reduces quality of life. Pain is a subjective experience, and self-reported pain is the gold-standard of pain assessment. This is often challenging in the target population, due to reduced cognitive function and communication challenges.
The overall aim of the research project is to develop and test an intervention for systematic pain assessment in people with dementia living in nursing homes, which consider individual variation in pain expressions and ability to self-report. The development of this intervention is rooted in the initial steps of the MRC framework for developing and evaluating complex interventions. The project will include a scoping review (study I), an observational study (study II), an interview study using focus groups (study III) and a feasibility study (study IV).
Project publications:
Kreppen Overen C., Larsson M., Hummelvold Hillestad & Eriksen S. (2022) Process of pain assessment in people with dementia living in nursing homes: a scoping review protocol. BMJ Open. 12:e063230. doi:10.1136/bmjopen-2022-063230
Contact us
If you wish to know more or be part of the research within the platform, please feel free to contact the platform lead professor Gunilla Borglin via mail, Gunilla.Borglin@ldh.no